Effortless Compliance, Adaptive Safety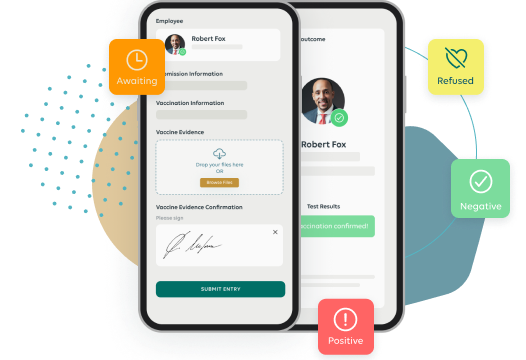 On the go test submissions
Your staff can easily submit testing status updates on the go with secure self-service functionality from any device. Keep track of overdue requests, testing progress and results with live alerts to keep your workplace protected round the clock.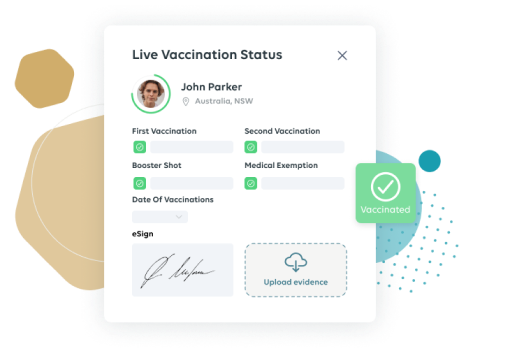 Live vaccination status
VaxSAFE makes it simple for both staff and employers to keep track of vaccination status with powerful self-service submissions of verified evidence to future booster shot compliance. Smarter resource planning and risk management at your fingertips.
VaxSAFE for...
Accessible
Access VaxSAFE from anywhere on any device.
Easy
Seamless workflows to update your vaccination status, COVID-19 test results, and proof of vaccination documentation with digital signature capability.
Safe
From encrypted uploads to secure management of individual health records for maximum privacy.
Managing
Easily assign, approve, trigger tasks, automate workflows & receive intelligent alerts and notifications.
Visibility
Powerful reporting capabilities help monitor, identify & track workforce testing and vaccination status plus more.
Status
Manage proof of vaccination records, COVID-19 testing status & up-to-date vaccination status.
Compliance
Designed to meet current and future testing and vaccination requirements to meet safe work legal obligations.
OHS
Prevent workplace COVID-19 outbreaks, non-compliance risks and productivity disruptions.
Privacy
Comprehensive privacy compliance of sensitive health records with secure data collection, secure document purging, & stringent rights access management.
Compliance Your Way
VaxSAFE will help you meet Australian workplace regulatory and legal obligations designed around your unique workplace environment.
Configurable
Compliant
Secure
Simplified Workflows
VaxSAFE is designed to simplify managing large complex workplace environments with offices and staff geographically dispersed.
Cloud-based
Reporting
Automation
Safety First
VaxSAFE helps businesses boost workplace health & safety processes to protect staff and make return-to-work a success.
Productivity
Privacy
Visibility
Trusted by Australia's Safest Workplaces



















Return to Work, Fearlessly
Features
Cloud-enabled
Cloud-based platform with multi-device compatibility.
Testing Management
Comprehensive COVID-19 testing tracking to manage infection control, testing requirements and outbreaks. Manage staff testing mandates, request health tests, assess results & document management.
Vaccination Management
Comprehensive employee vaccination management & record keeping. Monitor vaccination rates, booster shots, bulk request vaccination submissions or health checks, track proof of vaccination & booster status.
Migrate Existing Data
VaxSAFE allows admins to easily migrate existing employee vaccination and testing records easily from other platforms for seamless continuity.
Paperless
End-to-end paperless processes with eSignature capability built right in improving employee productivity and privacy.
Employee Self-Service
Employees are able to easily and securely complete on the go test and vaccination status submissions with the ability to directly upload evidence docs to VaxSAFE.
Digital Workflows
Effortlessly action workflows seamlessly all online.
Secure Employee Record
Secure environment to upload sensitive proof of vaccine documentation, certifications and test results compliantly.
Risk & Compliance
Maintain compliance around current regulatory requirements for meeting safe work obligations at the state and federal levels.
Admin
Multi-level role-based access rights and reporting visibility to ensure employee privacy and confidentiality.
Automation
Multiple automated workflows from task management reminders, testing management, approvals, denials etc.
Alerts & Notifications
Notify via email, link, QR code or SMS with real-time alerts and notifications for both employees and employers.
Reporting
Reporting on vaccination status, test results, unvaccinated tracking and more.
Storage
Temporary storage of proof/evidence documentation protected by role-based permissions
with automated secure purging of sensitive documents upon approval/assessment.
Multi-site
Managing multi-site workplace environments and franchising support.
Extended Workforce Support
Support for employees, contractors and extended workforce to be managed from a single centralised platform.
Integration
Integrate with workplace health & safety system (WHS).
PPE Management
PPE inventory management across multi-site offices.
Visitor Tracking
Allow visitors to conveniently report health symptoms and vaccination status via a link or QR code.
e-Learning Course
E-learning course to educate your staff on the vaccine, how it works and company policies.
Templates
Professional letter templates and policies.
Pandemic Solution
Access to Donesafe's suite of return to work modules.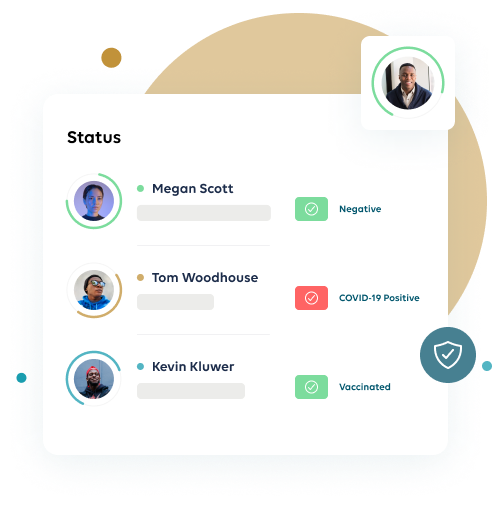 Faster, Smarter, Safer
Keep your most valued assets protected
Effortlessly keep track of your entire organisational vaccination and testing status under one integrated platform.
Empower front-line managers to proactively prevent risk, outbreaks and non-compliance without impacting productivity.
Customise the workflows, automation and controls to work alongside your organisation's systems.
Request a demo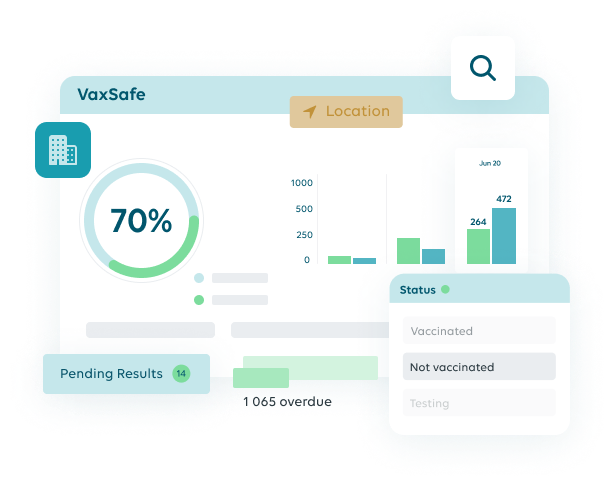 From Hindsight to Foresights
Make smarter future decisions
Smart customisable reports & dashboards give permission-based visibility into the entire organisation's vaccination and test status.
Identify and action workforce vaccination and test outcomes with real-time alerts and notifications.
Gather intelligent insights to forecast resource disruptions, staff availability and scheduling at any point in time.
Request a demo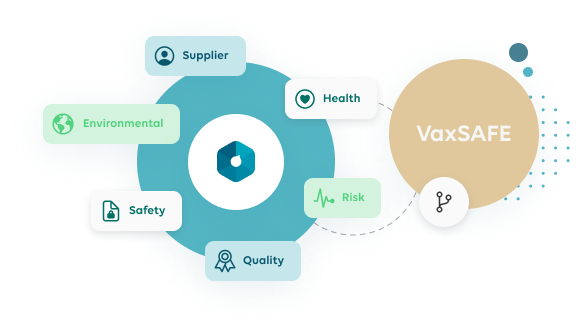 World-class safety built-in
Works great alone or together
VaxSAFE is built to work as a standalone solution to simplify workplace vaccination tracking and COVID-19 testing requirements.
VaxSAFE can also be seamlessly integrated into the wider EHS or workplace safety software solution Donesafe offers.
Request a demo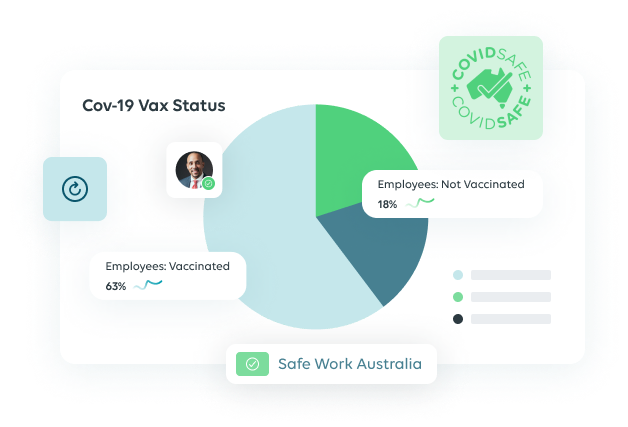 Designed to Evolve
Future-ready safety standards
VaxSAFE is designed to meet future testing and vaccination requirements as well as cater to Australian federal and state-based legislation and policy.
VaxSAFE will have ongoing up-to-date compliance with the latest health orders while helping organisations meet safe work obligations.
Request a demo
About Donesafe
The #1 all-in-one HSEQ platform - Choose from 30+ apps to create a solution for your organization, including COVID-19 management solutions! Donesafe is Health, Safety, Environment and Quality software that connects your management system from workers in the field to the management team in the boardroom.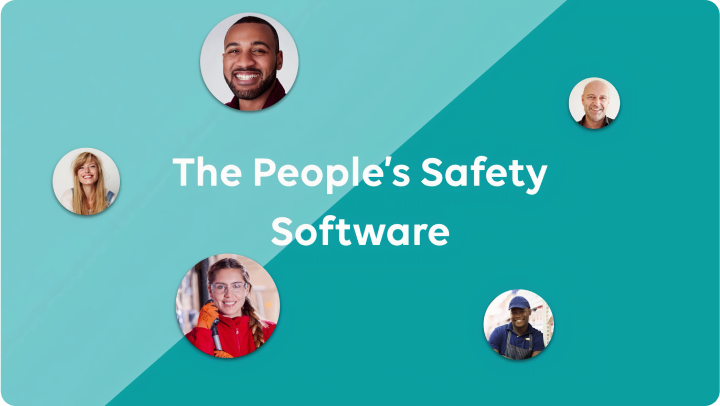 Frequently asked questions
VaxSAFE simplifies COVID-19 workplace vaccine and testing management/tracking all under one centralised cloud-based platform. It allows workers to easily access the platform on any device, and enter their COVID-19 vaccination status, documents and test results. It allows organisations to have a complete understanding of COVID vaccinations and tracking, making compliance, and forward planning easy. It works great in isolation, but is optimised when used alongside Donesafe HSEQ modules.
The VaxSafe module, like the Donesafe platform, is completely configurable. It can be modified to suit your individual business needs.
VaxSafe has temporary storage of proof/evidence documentation protected by role-based permissions with automated secure purging of sensitive documents upon approval/assessment.
All information is stored within Australia with our hosting partner Amazon Web Services, based in Sydney. We use SSL on our system to ensure all traffic and data is encrypted. We also use server hardening, port blocking, a physical firewall, and have installed an intrusion direction system to protect our platform and data.
For current clients that already use the Donesafe platform implementation and deployment process of VaxSAFE will take around 2 to 4 weeks. For new customers, this process can take abit longer based on customisation requirements.
There are a few moving parts when it comes to the pricing of Donesafe, including how many users/contractors you need, what modules you're interested in, if you need help with integrations, and also if you require custom work outside typical implementation. To get indicative pricing you can pop your details into this "quote" form, and the team will give you a quick call.
VaxSafe can support workforces of all sizes, including enterprise companies. VaxSAFE has already been implemented with a number of enterprise clients with organisations as large as 70,000 employees.
Yes, VaxSAFE has been designed to assist businesses minimise and manage the risks of COVID-19 in the workplace. Also to make complying with public health orders around testing, tracking and vaccination simple and easy.
Yes, Donesafe endeavours to always stay ahead of the curve with product development and upgrades. We know the COVID-19 situation is ever-changing, so we will be keeping up to date with new regulations and compliance requirements, to continuously improve the VaxSAFE module.
Absolutely, the VaxSAFE module can be used in isolation, but can also be fully integrated with your current Donesafe platform.